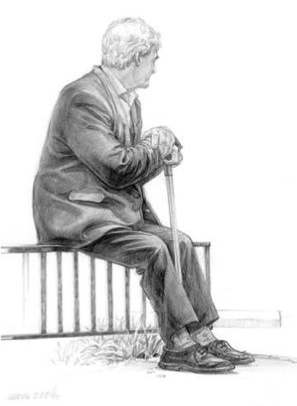 "He left and still hasn't returned" - the phrase that is most often heard by police from relatives of a missing parent with Alzheimer' or Dementia. What to do in a situation where your elderly parent with Dementia or Alzheimer's is missing. A brief but important instruction.
1. Police
Many people think that they will definitely be able to find the missing person themselves with the help of friends, relatives, ads for help on social networks. And only when they are already desperate to find the lost (usually after a few days), they turn to the police. This is precious time lost: the easiest way to find a person in the first day after the loss.
Report the missing person to the police immediately. It doesn't matter when you realized that the person was gone - two days ago or just now. Police officers are required to accept your application.
2. Make sure home is under control.
Make sure that one of the relatives is constantly at home and waiting for the person in case he comes back on his own. Meantime, try to check if your loved one went to a hospital.
3. Do not keep calling.
If the missing person does not answer calls on a mobile phone, do not keep calling. This will only cause the battery to get discharged more quickly, and can result in the missing person to be without methods of communication. This will only complicate the work of the police.
4. Do not hide part of the truth about possible reasons for the person to go missing.
There can be various reasons for a person's disappearance, so the police officer asks relatives to tell them as honestly and as detailed as possible about the person. However, relatives do not always tell the truth, believing that it will not help to find the missing person. Sometimes, trying to protect loved ones, they even tell a lie. And the more untruthfulness they say, the more they reduce the chances of finding the lost person as soon as possible.
Tell police and volunteers as much and honest as possible everything you know about the missing person. Specify:
special signs (gait, speech, etc.);
the usual routes of the missing person, as well as the places he/she regularly goes to;
what diseases he/she has and what medications he/she takes.
5. How to reduce risks in advance of losing people with Dementia or Alzheimer's?
Gift your elderly parent a mini GPS tracker, so you can easily track their location when they go outside for a walk. With their permission it is totally legal to use GPS tracker. This will put both you and your elderly parents mind at ease, and might save them from dangerous circumstances.
Install the free ODIN app on your mobile and reduce risks of losing your loved one. With it, you will know the location of a person in real time, and you will also be able to receive notifications about their movements.
Give to the person with Dementia or Alzheimer's a GPS tracker as a present and they will be thankful for your care and help. They can easily put it in their pocket and charge it from time to time. The battery of our ODIN GPS-03 tracker lasts for up to 14 days.